WELCOME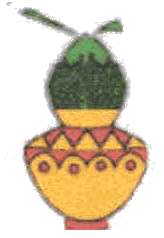 GREATER PORTLAND TELUGU ASSOCIATION

GPTA cordially invites you all to participate in the cultural program and make it a grand success

VRUSHA NAAMA SAMVATCHARA
UGADI Celebrations!!

04 / 07 / 2001, 5pm onwards
Venue
Rudy Luepke Senior Center,
1009 E McLoughlin Blvd,
Vancouver, WA 98668
Phone: 360-696-8202
( Less than 10 minutes drive from Portland downtown)
Cultural Program Followed by Dinner : 5pm onwards
$12/- per adult, $6/- for children 5yrs & above.

RSVP For Ugadi 2001
Directions:
Take US-26 East; Take the I-405 North exit on the left towards ST.HELENS/SEATTLE; Merge onto I-405 North.Take the I-5 North exit on the lef towards SEATTLE.Merge onto I-5 North; Cross over to Vancouver; Take the MILL PLAIN BLVD. exit (exit number 1C) (3rd exit after crossing bridge from portland side) ; Keep RIGHT at the fork in the ramp; Turn RIGHT onto E MILL PLAIN BLVD; Turn LEFT onto E FORT VANCOUVER WAY; Turn LEFT onto E MCLOUGHLIN BLVD; Look for Marshall Community Center on your left; Drive into the parking lot; Rudy Luepke Senior Center is at the end of the parking lot.
UGADI'2001 Co-Sponsors

Everest Consultants, Inc
Reaching New Heights in Software Consulting Services
http://www.everestinc.com

Swagat Indian Cuisine
Specializing in North & South Indian Cuisine
503- 626-3000

Doss Quality Homes
For Quality Custom Built Homes
Contact Suresh Doss: 503-201-8473

India Direct, Inc
The finest in Indian Spices &Groceries
http://www.india-direct.com

Custom Dress Making & Embroidery
Specializing in Traditional Indian Dress Making
Contact Sridevi Chaya: 503- 531- 7906

Nova Travels
503- 697- 4460
www.novatravel.com

Ensoftek
503- 643- 1226
www.ensoftek.com

India Imports
Indian Grocery & Movie rental
503 -617 -9477

Indian Food World
For Groceries & Movie rental
503-350 -3966

Abhiruchi
Indian Cuisine South & North
503 –671-0432

Westwood Associates, Inc. Real Estate
Contact F. Lynn Bell, Designated Broker.
503-644-8787

India Connect
India Spices and Groceries
503 -617-7585

Gokul International
Importers of Exquisite Hand-Crafted 22kt Gold Jewelry
http://www.gokulgold.com

Ameya Saris, Salwars & more
ameya11@home.com
503-645-6071